Wellness Program
PEEHIP Wellness Program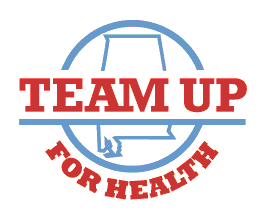 PEEHIP has "Teamed Up For Health" with the Alabama Department of Public Health (ADPH) and will soon team up with another strategic partner to launch a new and improved PEEHIP Wellness Program.
The following members enrolled in the PEEHIP Hospital Medical Plan are required to participate in order to receive the wellness premium discount:
Active members
Non-Medicare retirees
Covered spouses
All of the above must complete the applicable wellness components by the specified deadlines in order to receive the wellness premium discount. The program does not require meeting any conditions related to a health factor to obtain a discount. The wellness premium discount will be determined by the PEEHIP Board before January 1, 2015.
Participation for Medicare-eligible retirees and covered Medicare-eligible spouses is optional and not required. Under no circumstances will they have a wellness premium increase.
Wellness Components
The Wellness Program consists of some new programs and greater access to existing ones to help our members manage their health and become more educated in the lifestyle choices they have.
Required to complete in order to qualify for the wellness premium discount:
Wellness Screening
Health Risk Assessment Questionnaire (HRA)
Required only if you are identified as a candidate for these programs:
Disease Management
Wellness and Lifestyle Education Coaching
Wellness Screenings Begin August 1
The Wellness Screenings consist of the following measurements:
blood pressure
total cholesterol including HDL and LDL
triglycerides
blood glucose
height, weight, waist
body mass index
Beginning August 1, 2014, ADPH provides the screenings at the worksite locations for active employees only. Alternatively, active employees as well as non-Medicare retirees and covered spouses can obtain the screenings at any of the statewide ADPH county locations or through your personal healthcare provider. Screenings obtained as of June 1, 2014, at these alternative locations will be accepted.
ADPH has a PEEHIP Wellness Calendar and Wellness County Contacts on their website that will inform you when the screenings will take place in your area.
All screenings regardless of location must be completed by May 31, 2015, to receive the wellness premium discount effective October 1, 2015.
If you decide to use your personal healthcare provider to do your screening, use the Healthcare Provider Screening Form. This form must be completed and faxed or mailed to ADPH by your healthcare provider. Under the Affordable Care Act (ACA) as part of the federal healthcare reform laws, no copay is required for one annual preventive routine office visit obtained through your in-network healthcare provider.
Also, no copay is required if an ADPH wellness coach gives you an Office Visit Referral Form to take with you to a physician's office to follow up with the abnormal results or risk factors identified during the screening process. The referral is only good for 60 days from the screening date.
Starting January 1, 2015:
The Health Risk Assessment (HRA) which will be available January 1, 2015, is a health questionnaire used to provide you with an evaluation of your health risks and quality of life and gives individualized feedback to motivate behavior change to reduce health risks.
If the HRA identifies an opportunity for improving your health, Wellness and Lifestyle Education Coaching will be available to you. The coaching process will offer numerous resources and services to help you maintain or improve upon a healthy lifestyle.
PEEHIP's Disease Management Program focuses on five chronic illnesses and the reduction of future complications associated with these diseases: asthma, diabetes, coronary artery disease, congestive heart failure and chronic obstructive pulmonary disease (COPD).
The program is a system of coordinated healthcare interventions and communications in which patient self-care efforts are significant. Applicable members will be required to participate beginning January 1, 2015, if identified as a candidate.